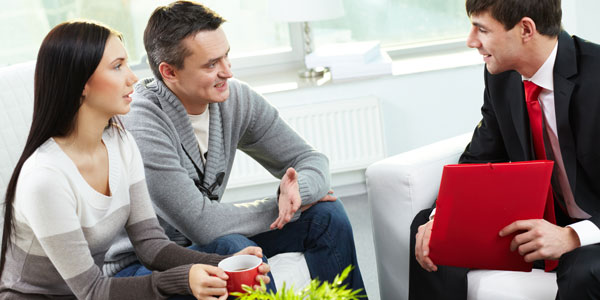 Careers
If your objective is to build a rewarding lifetime career in real estate, you are interested in the best company to provide you that great career. So you look at the competition; all are unique and provide some interesting benefits and do provide most of what you need.
Then someone shows you the EXIT Formula. WOW! It's completely different! The absolute best training in the industry, a vested interest in building the company, with retirement security for you and your family.
Now that's innovative! EXIT is truly re-inventing real estate.
Who We Are
At EXIT Realty Consultants, we uphold an ongoing commitment to providing an elevated level of personal service. Our clients come first, and as a result, they are able to achieve more than they ever dreamed with their real estate investment.
We believe a supportive company culture is the mark of a truly successful real estate company. Our real estate professionals become their best when they are given ample opportunities to grow. We provide the education, support, systems, and structure to help them reach their fullest potential. We also believe there is nothing more critical than creating strong, personal connections in our workplace, in our communities, and with our clients.
The Role of a Real Estate Sales Agent
A Real Estate Sales Agent manages the sale or purchase of residential properties for clients. In this role, clients will rely on you to either sell their property expediently and for the best possible value or represent them as a Buyer's Agent and getting them the best property and a good price. You will research local market activity and stay up-to-date on industry trends. Real estate transactions can be an intimidating process, so you must be a good communicator and be proficient in how to make a good sale. Every transaction is different, so adapting to change and working through challenges are great skills to possess.
A successful Real Estate Sales Agent will be comfortable prospecting new client relationships and networking with other industry professionals. A goal-orientated attitude, with a focus on personal development, will help in becoming a high-performing agent. An ability to think quickly and to creatively solve problems are also vital components in order to stand out in your market.
In this role, you will…
Consult with clients and answer their questions and concerns before, during and after a real estate transaction.
Help clients price their property well and make it marketable.
Assist buyers in identifying a property they like and want to make an offer.
Network with other real estate professionals to increase awareness of properties and close transactions.
Research your real estate market and understand the trends of home values in your area.
Facilitate communications and negotiations between the home seller and purchaser.
Actively devise marketing strategies to ensure a prompt home sale.
As a company, we will…
Give you a competitive commission rate to offer you financial security.
Encourage a healthy work/life balance with a flexible schedule.
Guide you through the real estate licensing process.
Additional Details
Compensation in the real estate market is related directly to a Real Estate Professional's performance. Although it cannot be guaranteed, high-performing, dedicated agents have reasonable potential to make $50,000 – $100,000 per year, or more, after establishing a strong client base. You will find that the more time and work you put in, the more potential you will have for higher income.
Notice: While a real estate license is not required to apply, you must obtain a real estate license before officially being hired. To earn a real estate license you will need to complete real estate classes (online or in-person) offered by an accredited learning institution and pass a state licensing exam. To learn more about the real estate licensing process, apply now and our recruiting team will provide additional details.
Our Equal Opportunity Promise
We are dedicated to fair hiring practices and operate as an equal opportunity employer. We do not discriminate on the basis of race, sexual orientation, age, marital status, religion, or nation of origin. We take pride in being exceptional leaders and citizens of the communities we serve and we're dedicated to treating all our potential employees and associates with the same level of care and respect.
Training
Becoming a part of EXIT Realty means joining the on-going commitment to create the most highly trained and skilled professionals in real estate. Our sales training is taught by some of the industry's leading top producers, and is among some of the most comprehensive coaching you'll ever receive. Designed to remove and eliminate the inhibitions and anxieties that have rendered so many salespeople average, EXIT's training programs range from topics such as initiation, finalization, negotiation, personality profiles and strategic planning. No matter what your real estate career level, there's a training perfectly suited to your needs. When you join EXIT, you're making it your business to get the finest and best return on your invested time.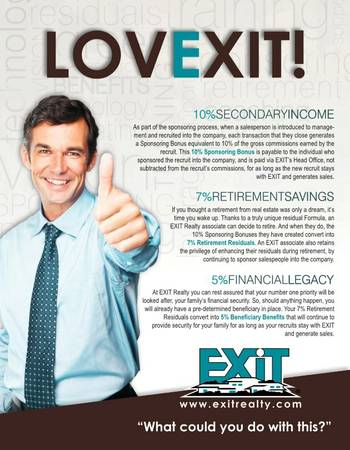 Ownership
EXIT Realty is revolutionizing the real estate industry with our three dimensional concept of taking listings, making sales and sponsoring. Now you can EXIT conventional real estate and open the door to unlimited income potential by using the EXIT Formula's single-level residual system. If you've ever dreamed of owning your own real estate franchise, you owe it to yourself to find out why EXIT Realty is Growing!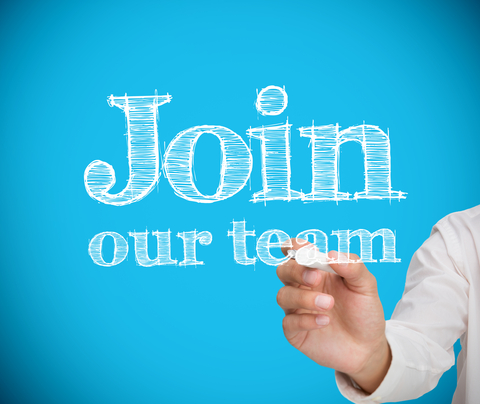 Contact Our Office Here
To learn more call us at (209) 800-EXIT (3948) or email us at EXITwithLA@gmail.com.
________________________________________________
You owe it to yourself to take four minutes and watch the video below that shows you exactly what sets EXIT Realty apart from the rest!